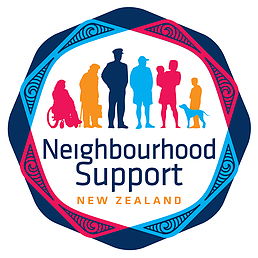 Palmerston North Neighbourhood Support was established in 1984 as 'Neighbourhood Watch', primarily a community centred approach to crime reduction. Since those early days, it has evolved into Neighbourhood Support to encompass the need of community support in the areas of safety and natural disasters as well.
We are a registered charity (number cc 10054) and rely on the generosity of our funders, sponsors and individuals to allow us to continue to help neighbourhoods stay safe. We actively encourage you to read about each organisation you see within our site, click on the logos you find and have a look through their sites – this is one of the ways we acknowledge their support.
We work closely with the Police, Palmerston North Community Patrol, Civil Defence and many other organisations in the community to reduce crime, improve safety and prepare to deal with emergencies and natural disasters.
Aims
Neighbourhood Support aims to make our homes, streets, neighbourhoods and communities safer and more caring places in which to live.
Neighbourhood Support Groups
There are currently over 10,500 houses registered to our groups spread over 40 'Suburbs' through Palmerston North and its surrounds.
Neighbourhood Support Groups enable people to share information, ideas and insights.
As a result, these groups:
Encourage neighbours to talk to each other
Share information that will help reduce the risk and fear of crime
Help foster a sense of community spirit, where everyone is respected and valued
Educate and empower neighbours to take responsibility for their own safety
Identify the needs of neighbours and ways to assist each other
Identify the strengths and skills of neighbours to contribute to solving local problems
Minimise burglaries and car crime in the local area
Reduce graffiti, vandalism, violence and disorder
Support victims of crime
Enhance the safety features and appearance of the neighbourhood
Decide on ways to handle any civil emergencies that may occur
Know when and how to contact Police, other emergency services or support agencies
Liaise and co-operate with other community groups
How we work
We try to have a Coordinator for each suburb. This means we have a volunteer 'on the ground' to help us keep groups up to date and the Street Contacts for each group have a local person to deal with if they need some assistance. For those suburbs that don't have a Coordinator, Street Contacts are able to deal with the field office directly.
Click the link to view the flow chart
Neighbourhood-Support-Operations-Flow-Chart-2015 (2)
If you would like to talk to our Manager about Neighbourhood Support use the 'contact us' form or give us a call on 355 4468 to ask for a visit.
What you get as a member of Neighbourhood Support
As a new member you will receive, from us, a 'new member pack.' This contains useful fact sheets and booklets to help you keep yourself and your possessions safe along with contact details that you may need, and a Neighbourhood Support Sticker to place on your mailbox or window.
All members who have registered their email with us get weekly burglary alerts. These are sent out only to suburbs that have had occurrences of burglary within the week so not getting a burglary alert is a good thing! We also send out reminders to help you stay vigilant as well as emails about specific issues that the Police ask us to send out to our members.
All we ask of you in return is that you help yourself and your neighbours to stay safe and that you keep your groups details up to date with the office.
Support us:
Short on time but not change? You can also help by making a tax-deductible donation to Palmerston North Neighbourhood Support, a not-for-profit registered charity. 100% of donations go towards our operating costs and initiatives.
Bank Account No: 38 9005 0832851 00